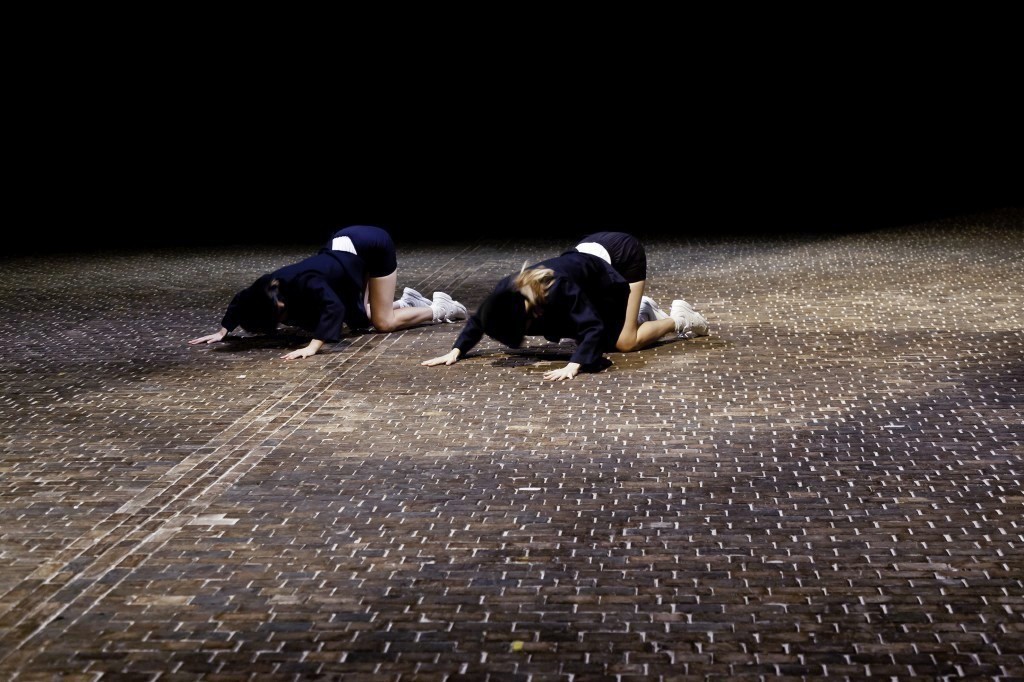 PERFORMANCES 2012-2014
November 6, 2014 | Civivox Iturrama, Pamplona (ES)
March 19, 2014 | Regional Arena for Samtidsdans, Stavanger (NO)
March 16, 2014 | STÜ, Tallinn (EE)
August 20-21, 2013 | Dansehallerne, Copenhagen (DK)
August 17-18, 2013 | "Metropolis", Copenhagen (DK)
August 16, 2013 | "Ilinx presents VI", Copenhagen (DK)
March 14-17, 2013 | Teaterøen, Copenhagen (DK)
November 2-3, 2012 | Centro Cultural de la Memoria, Buenos Aires (AR)
• Mass Hysteria received the Danish Arts Foundation's award in 2013 •

Mass Hysteria explores the mass hysterical symptoms within choreography, what is also known as 'unison'. By performing the exact same material, the duo reveals both empathetic and apathetic aspects of crowd culture.

As a foundation the piece is built on a series of precise re-enactments of video's found on Youtube which portray real, mass events. In this way the duo appropriates living objet trouvé, (a term borrowed from visual arts), in a black box context. Mass Hysteria is both a plastic representation and a real crowd symptom. A state of multiplication and mass production that might give rise to an own unforeseen mass event.
CREDITS
Concept, Staging & Performance: two-women-machine-show
Light design: Kristine Hamann
Graphic Design: Sam Moore
Production: Wunderkammer & Sophie Ullerup
Administration: Projektcentret
SUPPORT
In residency: Bora Bora (DK), Residencias Artisticas Habitantes (ARG), Regional Arena for Samtidsdans (NO)
Supported by: Nordeafonden, The Danish Arts Foundation, The Danish Arts Council, Københavns Kommunes Scenekunstudvalg, Centro Cultural de la Memorial Haroldo Cont