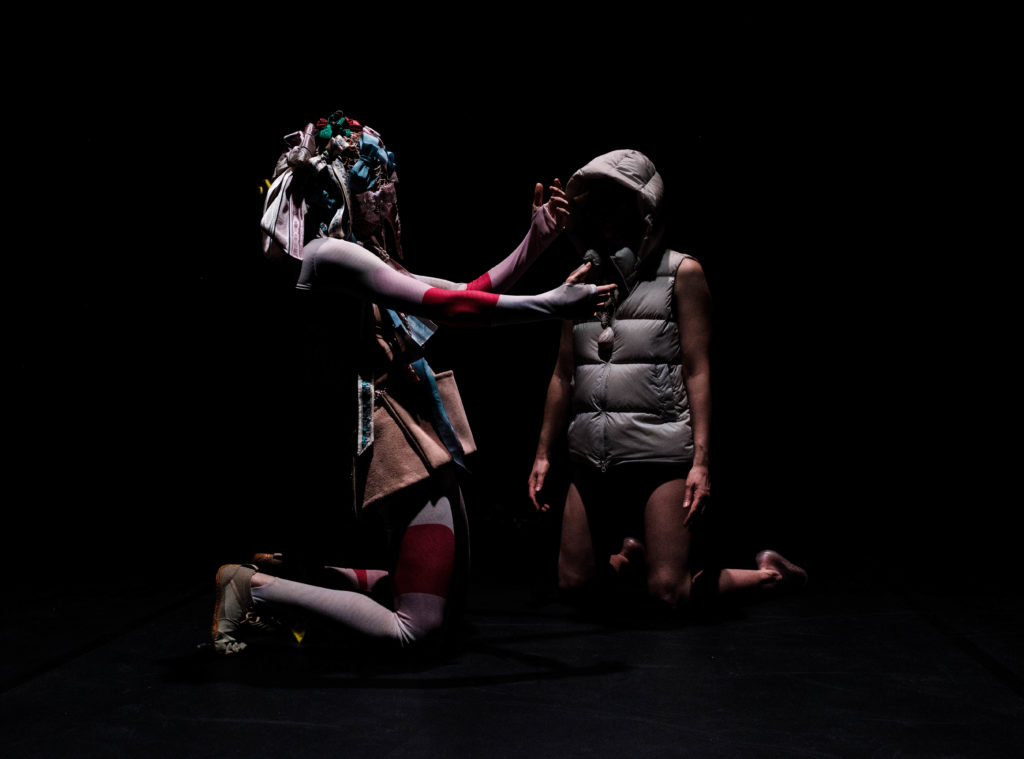 PERFORMANCES
Jun. 9th-10th, 2020 | MDT, Stockholm (SE)
May 25th-26th, 2020 | BoraBora, Aarhus (DK)
Feb. 24th, 2020 | Pakhus 11, Cph. (DK)
In Of All Its Parts: From Darkness the duo two-women-machine-show conclude an episodic journey into the unknown depths of a shared imagination. The work reveals a timeless and transformative figure, whose dance is a ceaseless flux between someone and other, between ancient times and flickering futures.
The transformative figure traditionally belongs to an age of myth, a period in which metamorphosis was the common gift of all creatures and constantly practiced to allow dynamic movement in times of stagnation or crises.
From Darkness is an attempt at expanding the possible dimensions of this 'dancing figure'; the choreographic thinking considers any moment that opens up between the embodied sensation of the performer and the surrounding space as a possible occasion for movement to occur. What becomes possible in this space is a dive into the unknown depths of darkness—invoking and unblocking voices, spaces and stories that appear in a timely moment to gently make their demand.
Of All Its Parts is the title of a choreographic work that unfolds over the course of four episodes. Through each episode, the work dives deeper into the latent layers of human imagination—gathering a spectacular and genuinely diverse accumulation of dreams and vision-like materials. By applying these materials to a choreographic setting which focuses on layering and interweaving, a grandiose figure is gradually brought to life growing and complexifying through each episode
CREDITS
Concept & Performance: two-women-machine-show
Sound: S. Rieser
Design: KASPERSOPHIE
Light Design: David Nicolas Abad
Performance Consultant: Jonathan Bonnici
Choreographic assistant: Angela Bundalovic
Graphic Design: Sam Moore
Production Manager: Gry Raaby
Communications Director: Jeffrey Scott Stratton
Administration: Projektcentret

SUPPORT
In residency: CORPUS – Det Kongelige Teater (DK), Aaben Dans (DK), MARC – Milvus Artistic Research Center (SE), MDT (SE)
Co-production: Dansehallerne, MDT
Supported by: The Danish Arts Foundation, Københavns Kommunes Scenekunstudvalg, Wilhelm Hansen Fonden, William Demant Fonden, Knud Højgaards Fond